Ten Ways to Create a French Country Kitchen
Sandra from Highlands Ranch Colorado asks:
I understand French country kitchens are all the rage! What tips can you give me in remodeling my 80s kitchen in this style?
Sure Sandra. If you want to make your home feel like it's in the French countryside, start with the kitchen. Here are ten ways to create your own French country kitchen.
Whether it comes to food, fashion, or interiors, the French style deserves the iconic reputation it has. Consider the chic yet warm and cozy feel of French cottage kitchen designs. With a color palette inspired by the landscapes of Provence, rustic natural accents, and dainty touches, a French country kitchen is the epitome of effortless elegance.
French-style kitchens are also designed to work hard, with convenient, well thought out additions that make cooking easier, while also evoking a friendly and traditional way of life. Not to mention, emulating this country kitchen decor will make every day feel like a vacation in the French countryside. We can almost smell the bouillabaisse bubbling away on the stove!
Keep reading to learn how to incorporate French country style into your kitchen remodel.
1. Focus on Soft, Subdued Color Palette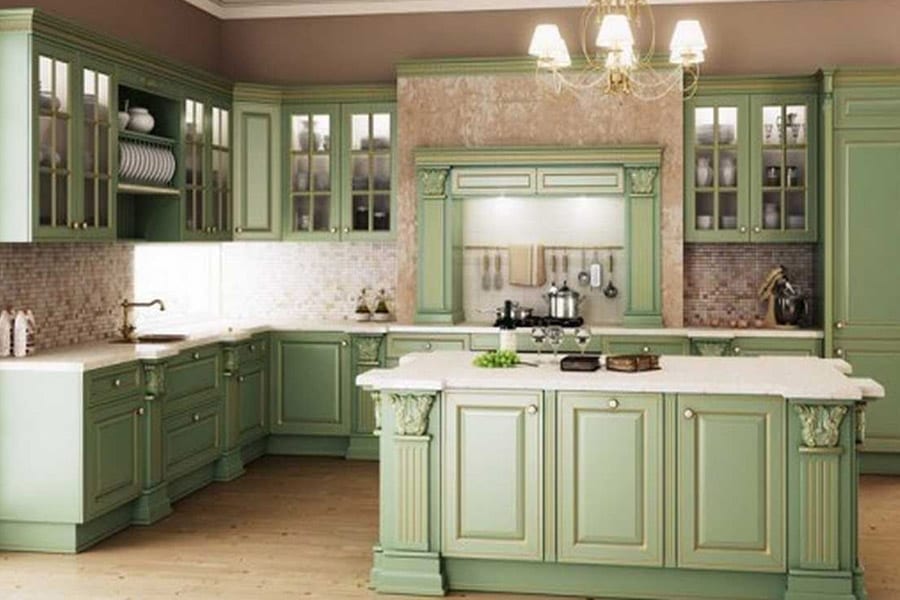 French country kitchen colors are usually warm and pale. This is because they're inspired by the hues of the surrounding Provençcl landscape. Think muted shades of lavender, soft beige, pale olive green, and creamy yellows.
Since cabinetry takes up most of the space in a kitchen, it's a must to use subdued shades on these large visual areas for an authentic French country look. As well as evoking a traditional feel, these colors provide your kitchen with a warm and welcoming ambiance.
2. Use Natural Materials
Since a French cottage kitchen takes its cue from the natural landscape surrounding it, it's logical that natural materials are a must for an authentic feel. As such, natural stone, brick, and wood are always featured, even in the most modern French country kitchen styles.
Don't be afraid to leave an aged brick wall exposed, while distressed wooden cabinets are perfect for creating a warm and friendly look. Let wrought iron details do all the talking, or make wooden beams into a dramatic feature.
3. Incorporate a Large Central Island
Don't be fooled into thinking a French cottage kitchen is all style and no substance. Many decorative details also double up as useful additions to a working kitchen that's also a welcoming family space. And a large central island is top of that list.
If space permits it, adding a kitchen island provides the extra space that makes food preparation much easier. It also encourages friends and family members to gather in the kitchen, emphasizing the warm and friendly atmosphere of country kitchen decor. One way to highlight the importance of a central island is to make it a different color to the rest of your kitchen. Don't stray too far from the muted French country kitchen colors though, just add a slight contrast for extra visual interest.
4. Employ a Skirted Apron Sink
Alongside your French kitchen cabinets painted in muted shades of distressed paint, nothing says country kitchen decor like a skirted apron sink.
A farmhouse-style apron sink is usually made from white fire clay or ceramic. But some modern French country kitchen designs have a copper apron sink for a distinctive contrasting look. These sinks will often feature a skirted cover underneath for a traditional style that adds a touch of simplicity to even the most elegant kitchen decor.
5. Include a Pot-Filler Faucet
Tired of lugging heavy water-filled pots from the sink to the stove? Then you need a pot-filler faucet!
A pot filler, which is also called a swing-out tap, is a traditional feature that has disappeared from many kitchen designs. And, while it may seem luxurious, it's an extremely useful addition to any modern French country kitchen. We're certain that once you install one, you won't know what you did without it.
6. Consider Hanging Copper Cookware
In the past, hanging copper pots and pans overhead was all about function. This method was a great way to keep this essential cookware close at hand and save storage space for other kitchen items.
Nowadays, it's typical to see copper cookware on display as an aesthetic addition to a modern French country kitchen. Even if you have the storage space, make a feature of your beautiful copper cookware by hanging it against contrasting white-painted walls.
7. Incorporate a Decorative Stove Hood
An elegant stove hood is one of the most distinctive features of a classic French cottage kitchen.
Choose between white molded designs, bold copper hoods, or a dramatic painted hood in contrasting colors. And, for an added touch, use brick or stone around the stove to create a fireplace-style feel reminiscent of the times when families gathered here for warmth.
8. Select Distressed Wooden Cabinets
Layer on the European charm with distressed wooden cabinets. Custom cabinetry around your kitchen allows you to incorporate a range of different cabinet styles to break up the blocks of similar surfaces and show off your chic ceramics and cookware.
If you have space, a large cabinet set against your kitchen wall can add an extra dose of rustic appeal.
9. Utilize Lantern Lighting
Lantern task lighting might look like it's straight out of a modern kitchen but it's actually a traditional feature in many French cottage kitchen designs.
Often fashioned from wrought iron, this outdoor-style lighting adds a rustic touch while also providing a practical and functional addition to a hard-working country kitchen. Install a selection of light fixtures above the center island for a dramatic European flair.
10. Add Exposed Ceiling Beams
Exposed wooden ceiling beams aren't an essential feature of a French cottage kitchen but they're great for adding a touch of warmth and style.
Beams are also a great way to bring drama to your kitchen, making them the icing on the cake when it comes to country kitchen decor. If you've got the space and the resources, it's a great way to top your kitchen off!
How to Create Your French Country Kitchen
As these inspiring ideas show, there are lots of ways to create a French country kitchen in your home.
Whether you're looking to add a few country decor concepts or want to go all out with a French cottage kitchen design straight from the landscapes of Provence, there's no doubt that French-style kitchens strike just the right balance between chic and cozy. Let our design team help you create that rustic look while incorporating all of the latest kitchen features and concepts!
For more information about remodeling your kitchen, feel free to contact Kitchen Concepts with any questions or queries. We have offices in Denver (720.725.0000) and Colorado Springs (719.330.5474).
Ask a question or request your free estimate!
Call (719) 330-5474
or
complete the form below.
Serving Denver, Colorado Springs and surrounding communities!